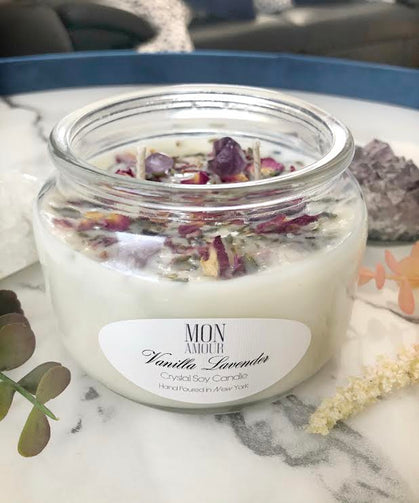 Peace, Joy, Tranquility Candle
Peace, Joy, Tranquility Candle
Regular price

Sale price

$9.99
These
candles
 brings peace, joy, tranquility and healing energies. Lavender is often associated with love, as well as for workings to bring calmness and peace. Burning a lavender scent during meditation can help you to relax, open your mind, and free yourself. Lavender is also a very protection herb that helps to ward off negative energies.
Amethyst:
is a calming and healing stone, dispels negativity. Amethyst is a very powerful and protective crystal. It vibrates at a high frequency creating a spiritual protection against negative energy. Since it rides the body of negative energy it also gets rid of negative emotions - feelings of stress, anxiety, fear, depression and more.
The Scent - is a relaxing and tranquil scent that is also unique and memorable. A well-rounded combination of fresh lavender, fresh vanilla beans, with orange zests and patchouli. It is a best seller!
Ingredients include
- Lavender/Vanilla Fragrance Oil
- 100% natural eco-soy wax
- lead-free wicks
- dried lavender
- rose petals
- crystals from my shop to help set your intention
- and of course love, light, and positive energy goes into every candle
Couldn't load pickup availability