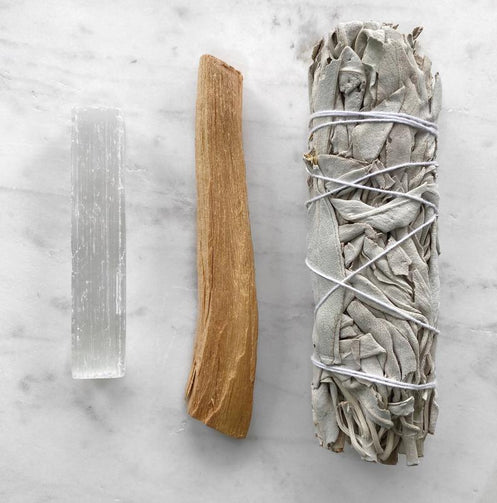 Smudge Kit Bundle
Smudge Kit Bundle
Regular price

Sale price

$11.99
Smudge Kit Bundle Include: 
(1) 5" White Sage, (1) 4"Selenite, (2) 4" Sticks of Palo Santo
This bunch contains everything you need to help open your mind and spirit. Each kit is hand bound… They make a perfect gift for new home blessings, relaxation, or meditation.
***
Selenite is known as a spiritual activation stone. It quickly works to open and activate the Third Eye, Crown and Soul Star Chakra. Works to increase communication with our guides and angels and is also fast and effective at clearing the auric field from imbalance.
Palo Santo, or "Holy Wood", comes from South America and is known for its sweet, woodsy aroma. It is ideal for smudging, and is often used as an alternative to sage. Use Palo Santo to help keep energies grounded and clear, dismissing negative energies and inviting positive energy and intentions to take their place. All of our Palo Santo is ethically sourced from Ecuador and comes only from the heartwood of fallen trees, making it an ideal environmental choice for cleansing.
(Tip: The fresh, pleasant smoke also is helpful in keeping away mosquitos and other flying insects along with killing viruses such as cold & flu!)
California White Sage
 is a bundle of dried herbs, usually bound with string into a small bundle. The herbs are later burned as part of a ritual, ceremony or for healing. Sage has a long history of cleansing and ritual use. White sage is a purifying and cleansing plant. Sage have antimicrobial properties, this means they keep infectious bacteria, viruses, and fungi at bay
Couldn't load pickup availability